Dr. Kristen Brauer is a veterinarian in Ocala who has worked with furry, feathered, and scaled pets.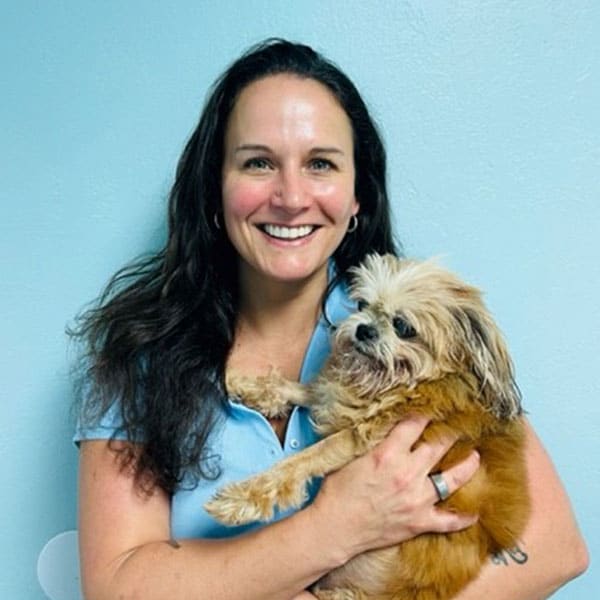 Dr. Kristen Brauer
Dr. Kristen Brauer grew up in northern New Jersey. She moved to Saint Petersburg to attend Eckerd College and found quickly that Florida was where she was meant to be. After obtaining her degree in marine biology, she decided that it was time to pursue her dream of veterinary medicine- at that time hoping to focus on marine and zoo animals. Dr. Brauer was accepted into the University of Florida Veterinary class of 2002, and she spent the next four years learning all that she could about dogs, cats, exotic pets, and wildlife.
After graduating from the University of Florida in 2002, Dr. Brauer moved back to Saint Petersburg to work in a primarily exotic animal practice seeing the typical dogs and cats with the addition of everything from bunnies to ball pythons and even the occasional pig. Over the following 10 years, Dr. Brauer enjoyed a versatile career teaching at St. Petersburg College Veterinary Technology Program, treating patients in local emergency hospitals, and filling in at a variety of day practices all around Tampa Bay.
In 2015 Dr. Brauer decided it was time to settle down and stay in one place to better accommodate all the loyal clients and friends that she'd come to know and love over the years. She purchased A practice in Clearwater and enjoyed every minute of the companionship and leadership it provided. Five years later, Dr. Brauer was seeking a change, and in August 2021 she sold that practice to explore new horizons. It was then that she came to start helping us at Paddock Park Animal Care Center. Here she found a new family of coworkers and clients that make every day more enjoyable than the last.
Dr. Brauer continues to live in Saint Petersburg with her 11 dogs three cats and a chicken name Myrtle. She loves the commute to Ocala for its solitude. In her free time, she loves to spend time with her dogs and her friends. She loves to learn new things through experience or reading. After her pets, her love is to travel anywhere and everywhere. At this time, she has been to 45 US states and 67 countries.